Simple-Simon offers you user-friendly and all-in-one job tracking software
Looking for a reliable job tracking app? We are happy to tell you why you should choose for Simple-Simon!
Difficult to schedule your employees? Not with Simple-Simon's job tracking tool! We make creating and scheduling your work orders easy! Simple-Simon offers you an easy, user-friendly job tracking app and office module that you can master in no time. Working with large, confusing Excel sheets is therefore a thing of the past. With thousands of users in different countries, Simple-Simon is the market leader in the field of job tracking software.
With the job tracking software from Simple-Simon you say goodbye to your paper administration
Job tracking with Simple-Simon: not only save time and money, but also increase your work quality.
Digital job tracking software? 
The job tracking software of Simple-Simon can be used by companies which have employees working in the field service. Plumbers, security guards and electricians, among others, work with our job tracking app. For Simon, it doesn't matter in what industry you work! Digitize your job tracking so you immediately work more efficiently and simplify your work process. As a result, you also communicate faster with your colleagues and customers!
See below the benefits that our customers gain after switching to our job tracking app.
Always and everywhere an overview of your field service with Simon's job tracking software
The digital planning board of Simon's job tracking app makes your planning as efficient as possible. With Simple-Simon's real time digital planning board, you are immediately aware of the status of your field service. This allows you to communicate quick and easily with your field service colleagues, keep an overview and prevent unproductive hours.
Live GPS tracking
See where your field service is, but also how far away your field service is from an urgent job. So you can immediately inform the field service employee who is the closest to the work address! In addition, show your field staff the addresses of today, and/or the addresses of a later moment. Ideal for when your field service staff has some time left. This way you can use your field service properly, which contributes to a more efficient working method for both, your employees and customers.
Monthly schedule displayed
View and schedule your company by day, week, an entire month or on an annual basis. You also have the possibility to jump directly to a specific date. Always have insight into your current planning, past and future assignments. Furthermore, insight into the days and hours on which your field colleagues are present or absent. All this is transparent in one planning, both for your office employees and for your field service.
Request live demo to see the benefits of Simon's digital planning board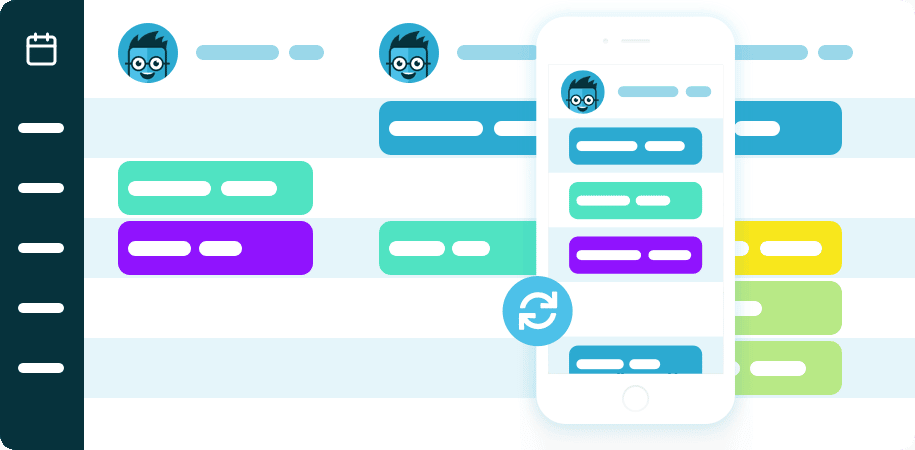 Working paperless with Simon's job tracking software
When we communicate with companies, it is primarily about irritations about the current working method. A method that has crept in over the years. For example, collecting or returning receipts, illegible handwriting, lost job sheets, retyping receipts & slow mutual communication. Use Simple-Simon's job tracking app and say goodbye to these irritations. Save time, money and increase your quality with Simple-Simon's job tracking tool.
More insight into your projects
Our job tracking software provides the necessary insights into your projects. In a handy weekly schedule, the digital planning board for your field staff can be scheduled at the relevant customer. By means of colors in the planning you can quickly see the status of the order in the job tracking software. Gain insight into travel time, customer information, the number of hours worked and breaks, among other things. As a result, you will never lose information regarding hours and the work performed. Thanks to digital work orders.
Save time per user
Simple-Simon's job tracking software works easily on smartphone or tablet. This allows your employees to add or edit the necessary information on site. This also means that nothing has to be filled in afterwards. The field staff no longer has to drive up and down to pick up or hand in job sheets. All hours worked and materials used can be viewed in real time at the office with Simon's job tracking app.
Communicate faster and better thanks to Simon's digital planning board
Simple-Simon's job tracking software consists of an app and an office module. Because your employees use the job tracking app that synchronizes real time, all data is sent directly to the office module. This way your office employees can see the status of a job sheet and respond to this when necessary. In addition, the contact between internal and external staff will also improve enormously. Since any changes in the planning can be communicated easily and quick with the app. This makes calling back and forth a thing of the past! The digital planning board is always up-to-date.
Connect Simon's job tracking app and invoice easier, faster and more efficiently
Do you want to connect the app with your accounting package to get the most out of your digital planning board? Done like that.
Simple-Simon's job tracking software can be linked to various accounting packages and can import important information such as customer data, article groups, projects, etc. These are therefore directly available in Simon. Connect the digital job tracking app with your favorite CRM/ERP or accounting package in just a few steps and work even easier and faster. The integrations can be configured directly in Simon's office module.